We are equipped to see equine patients through both our ambulatory and haul-in services. This flexibility allows us to individualize the treatment that your horse receives.
To schedule a farm call with an ambulatory veterinarian, please call the office with a general time frame in mind. In order to minimize travel time and fuel costs, we attempt to schedule appointments together in general geographic regions.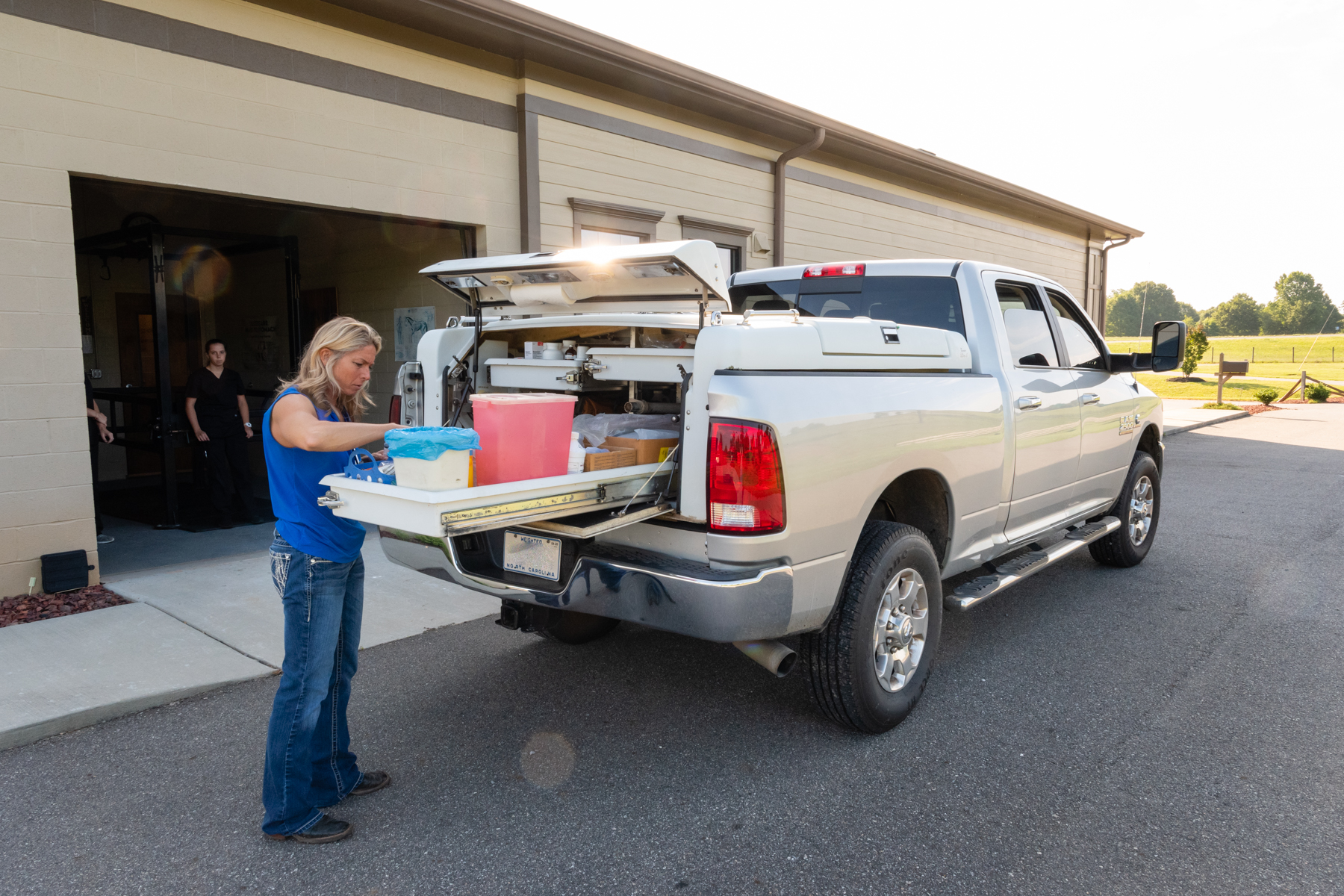 We ask that you attempt to be as flexible as possible on the day of your farm call and phone us the morning of your scheduled appointment to get an approximate time of the doctor's arrival. Of course, emergencies always take precedence over routine procedures and this could cause some variation.
 Additionally, please make the receptionist aware of all of the procedures that you will require during your farm call. This will allow us to see clients in a timely fashion, to be prepared upon arrival, and to meet with clients at their scheduled time.
There are considerable advantages to hauling your horse to our practice for their appointment. Results from blood work and radiographs are often available immediately, specialized equipment is readily at hand, mobile service charges are not applied, and additional staff is available to assist when needed. Appointments are typically scheduled first thing in the morning, lunch or after 6pm.
Services Offered (but not limited to)
Medical(In-house Hematology, Radiology, & Microscopic Analysis/Ultrasonography)
Surgical(castration cryptorcid/routine, Reproduction, Limited Orthopedics, Soft Tissue, & Oncology)
Wellness Vaccination & Nutrition Programs(Neonatal extending to Senior Equine Care Wellness Prog)
After Hours Pet Emergency (24/7)
Our equine doctor is available to treat horse related emergencies 24 hours a day. Clients who are faced with an emergency after hours will reach a message system, and a doctor will be notified. It is very important to leave complete and accurate information for the on-call doctor. Contact information is especially important to ensure that your horse receives the timely attention that it deserves.
Referral and Emergency (Hospital options for In-Depth Disease)
NC State College of Veterinary Medicine Main Number: 919.513.6500
Large Animal Emergency: 919.513.6630
Virginia Maryland College of Veterinary Medicine: 540-231-7666
Tryon Equine: 828-894-6064